PROSTHODONTIC ASSOCIATES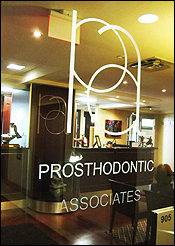 If your smile needs improvement, visit our Yonge and Eglinton Toronto Dentists. Your smile is our specialty! Our team of certified prosthodontic, periodontic, endodontic, and oral surgery specialists provides our patients with comprehensive, customized treatment plans, tailored precisely to your unique dental needs which include dental implants, bridges, periodontal care and root canal therapy (For a full list visit our Services page.)
Prosthodontic Associates also boasts an in-house, full service dental laboratory, where our skilled technologists and technicians create the prosthetics that complete your smile. At Prosthodontic Associates, we operate quickly and effectively and are always willing to customize treatments according to the needs of our patients. We also offer expedited services for those on-the-go and overnight accommodations for more complex procedures.
Please do not hesitate to contact our office for more information. Our Midtown Toronto Dentists would love to hear from you.
PA Gives Back
Prosthodontic Associates is involved with a number of non-profit initiatives to help those less fortunate within our community as well as abroad. To learn more about PA's missions click here.