Toronto Dental Crowns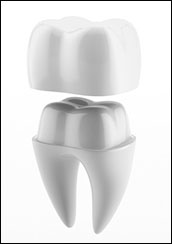 Dental crowns, also known as 'caps' preserve damaged teeth. Crowns may be used to protect a cracked tooth, restore a tooth with excessive decay, or replace a pre-existing crown. The purpose of a dental crown is to encase a needy tooth with a custom-designed material.

During the crown procedure, we prepare the tooth and make a molded impression of the teeth for our laboratory. A fitted, temporary crown is created during this visit to temporarily protect the tooth while the permanent restoration is being created in our lab. Once completed, the crown is cemented at a subsequent visit. We offer conventional metal based ceramic crowns as well as non-metal based, all-ceramic crowns that are customized to your mouth.

Our Eglinton Dentists can produce dental crowns in a day. Contact us for more information.