Toronto Teeth Whitening
Teeth whitening is very popular. Nothing is better than a bright white smile!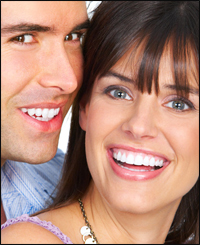 While there are a variety of consumer teeth whitening products available on the market today - many touting themselves "instant whiteners" - results vary great for each individual. For best results (obtaining the whitest smile possible, even colouration, and other factors), whitening should be undertaken by specialists.

There are two main methods of whitening. The first method is in-office, and involves applying a high concentration of whitening agent for a short period of time. A light-cured protective barrier is carefully painted on the gums and papilla (the tips of the gums between the teeth) to ensure the bleaching agent only reacts with teeth, and keeps the gums and papilla untouched. Teeth whitening in an hour can produce immediate results.

The other method involves using a thin mouthguard or strip to hold a low concentration of whitening agent next to the teeth for as long as several hours per day for a period of 5 to 14 days. This process is slower, although quite effective.

In a consultation, we'll discuss which option is best suited to you. In fact there are times when we use both options in combination to maximize the effect.