Toronto Avadent Dentures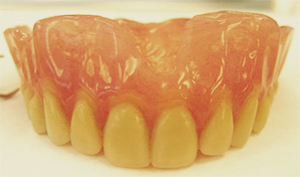 If you've lost some, or all, of your natural teeth, dentures can replace your missing teeth and your smile. Replacing missing teeth will benefit your appearance and your health. Without support from the denture, facial muscles sag, making a person look older.

There are various types of dentures. A partial denture is a removable dental appliance that replaces multiple missing teeth. It can be attached to the teeth with clasps (clasp or conventional partial) or it can be attached to the teeth with crowns with precision attachments (hidden clasps). Both types have a metal framework and plastic teeth and gum areas.

A fixed denture replacement solution consists of a dental implant bridge (sometimes called permanent dentures) that is supported by four or more dental implants. By using dental implants to secure the permanent dentures, the need for denture adhesive is a thing of the past. Because the dental implants function like the natural roots, the permanent dentures will feel very much like your natural teeth did.

At our office we use AvaDent digital dentures. In just two appointments we can create natural looking high quality acrylic dentures perfectly suited for you!

AvaDent dentures uses CAD/CAM technology to design and manufacture dentures taking into account your precise jaw measurements and oral issues.

With the use of AvaDent digital dentures we are able to:
Reduce the length of your appointment time
Keep a digital record of your dentures in case your acrylic denture has been lost or damaged
Offer a more precise fit
Bacteria resistant and durable
Provide you with new dentures in a week
All dentures are made of bio-hygienic materials which means they are safe to use.
PA can bring your smile back to life with any kind of denture you may need. We also offer same day denture repair, so we've got you covered at any time if your dentures ever break or have problems.