Toronto Dental Bridges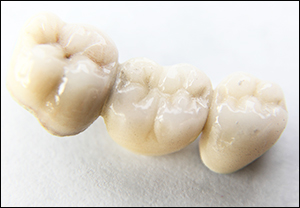 Dental bridges are used to replace missing teeth. There are several types of fixed (that is, cannot be removed) bridges. These include conventional fixed bridges, cantilever bridges, and resin bonded bridges.

During your initial consultation, we will examine the health of your gums and other teeth to evaluate if you are a candidate for a dental bridge. You will then be given a local anesthetic, after which we will prepare the teeth required to support the bridge. If the support teeth are badly broken down or decayed, we may have to build them up before they can be used as support teeth for the bridge.

We will make an impression of the prepared teeth. Your bridge will be fabricated on this cast by our skilled dental technologists so that it precisely fits the prepared teeth. While your bridge is being fabricated, you will be fitted with a temporary bridge so the teeth and gums can be protected from damage until the permanent bridge is made.

The dental bridge treatment will be completed during a second visit to our office. The bridge will be fitted and cemented.

We offer conventional metal based ceramic bridges as well as non-metal based, all-ceramic crowns that are customized to your mouth.