On-Site Dental Laboratory in Toronto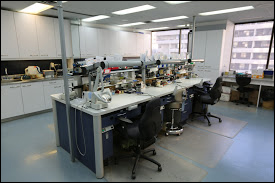 Dr. Barzilay Dental Laboratory (BDL) is our on-site, full service dental laboratory.

Having our lab on-site allows us to offer you the highest quality solutions for your smile, quickly and easily. Our prosthetics are created by highly trained dental technologists and technicians who are knowledgeable in conventional prosthesis fabrication as well as the newer CAD/CAM technology. The full spectrum of dental materials is incorporated into your prosthetics based on current research and your dental needs.

Having our staff on-site allows for simpler communication and provision of specific treatments while you wait. Our professional staff provides exceptional results with the utmost care for your needs.