Dental Veneers Toronto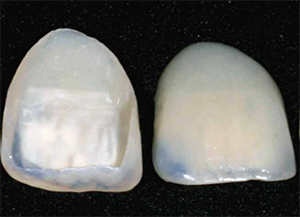 Porcelain Veneers are very thin shells that attach to the front of teeth to improve the overall appearance of worn, chipped, misaligned, stained or otherwise discolored teeth. Porcelain veneers are basically very thin "false fronts" for your teeth. They are custom created based on a mold of your mouth and teeth, then they are attached to your teeth using a high-strength dental bonding agent. The new porcelain veneer will look quite natural and white.

Porcelain veneers are very strong, and they are very adept at resisting staining.

The procedure generally is done in two visits: the first to lightly prepare the teeth and make the impressions; and the second to apply the custom created veneers. A third visit is also usually scheduled a week after the procedure to evaluate the placement, perform minor adjustments and answer any questions you may have. Our on-site laboratory technicians help customize each and every case, thus achieving the most esthetic and natural outcome.

If you're interested in having a smile makeover speak to Dr. Barzilay and the rest of our team today.

Our practice is conveniently located near Eglinton Station.